Rinsing and equalisation tank in special dimensions and sizes
Customer
Glostrup Sports Centre
Industry
Skylletank,
udligningstank
Water
A sustainable solution that ensures water circulation and saves 50,000 m3 of water.
The indoor swimming pool at Glostrup uses countless litres of water to keep its facilities running, and has therefore invested in a circular purification system, which may potentially reduce water consumption as the water is recycled instead of ending up in the sewer. However, this presupposes that the flush tank and equalisation tank are working to optimum efficiency.
We therefore removed the poorly constructed cuboidal tanks, and replaced them with round structures, which we built and welded together on site. A round tank has enormous strength and requires minimal welding, so there is no need for steel reinforcements. The strength of the tanks was crucial to the solution, as they had to be able to withstand overpressure.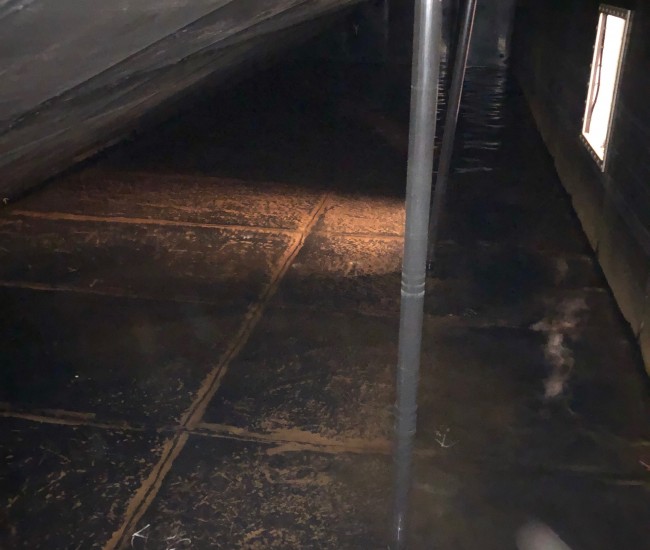 Leaky tanks with poor welding
Glostrup Sports Centre's existing rinsing and equalisation tanks were leaky and had strength issues causes by poor welding and overpressure.
"Unfortunately, the tanks were made by a company with no experience of such large plastic structures, which led to unnecessary hassle," says Michael Simonsen, operations manager at Glostrup Sports Centre.
The existing tanks were cuboidal and made of black PE plastic with steel reinforcements – and just 3 years old when it became necessary to replace them.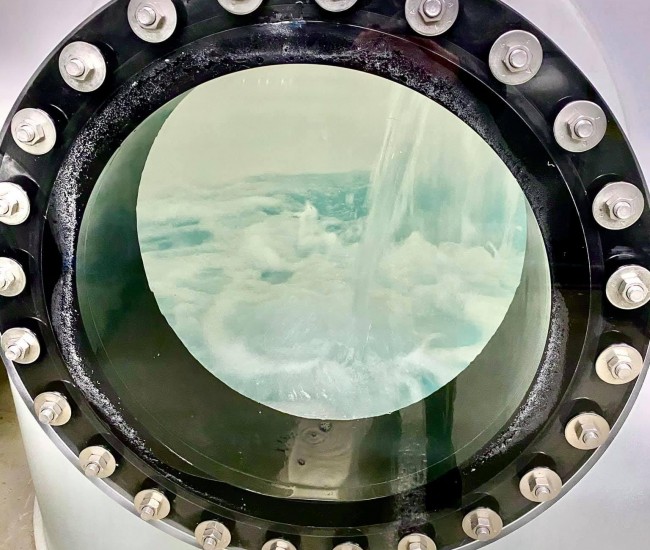 My main recommendation is to find a partner with extensive experience with the plastic material and an understanding of large plastic structures. We set great store by the product's being 100% impermeable and of high quality. At the same time, it was also important for it to be sustainable as possible. Dansk Plast were also in full control of their documentation and quality throughout. We are subject to especially strict standards for water testing, which is why independent inspections are carried out regularly, and we have not yet experienced any problems.

Michael Simonsen, Glostrup Sports Centre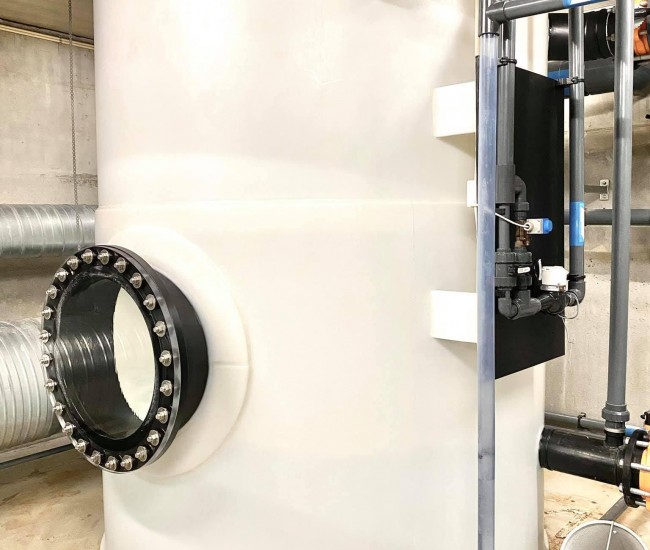 Leakproof custom plastic tanks
He was also in no doubt that plastic tanks would be the choice once again.
The material must be able to withstand the harsh environment and chlorinated liquids, and steel would have corroded over time. Plastic is chlorine-resistant while also displaying enormous strength. It also offers a sustainable solution with a long lifespan, making it a positive choice for Michael Simonsen from purely economic and environmental perspectives alike.
To make the tank as practical as possible, we also recommended including a manhole, as this would make future maintenance and inspection of the tanks considerably easier. What's more, we produced the tank in neutral solid polypropylene (PP) sheets, to make it easy to monitor the water level in the tank.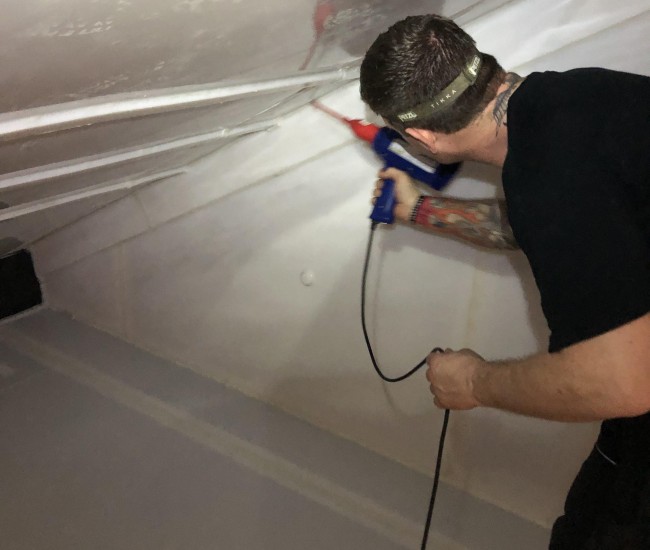 A good investment
They are very dependent on their facilities' working optimally, and the equalisation and rinsing tanks are therefore of great importance, as otherwise water resources go to waste and the system makes no sense, says Michael Simonsen.
"It would be catastrophic if they broke. That's why it was important for us to have a reliable partner. The cooperation with Dansk Plast was very good. From the start of the project, they were committed to doing a professional job, and they were in control of strength calculations and design. There was a good dialogue throughout the project, they delivered on time and they have made sure the system works without worries about leaks."
The swimming pool in Glostrup is an excellent example of how such systems can pay off. The payback time for the entire facility totalled 4 years, but today it has already saved them the equivalent of 240 households' worth of water, dramatically cut chlorine consumption and reduced heat consumption.